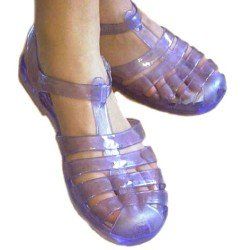 First of all, I am in no way an advocate of the classic jelly shoe we all remember from the wonderful fashion era of the 80s through early 90s.

BUT!

There have been several reincarnations (more specifically the Zig Zag collection by Brazil based company Melissa + design brothers
Fernando and Humberto Campana

) that I can fully back. While I don't enjoy the amount of waste created by plastics and am skeptical about the comfort level of a plastic shoe on a humid day, I have testimony that they are indeed comfortable. Melissa shoes are made out of a patented oderless and allergy free plastic called Melflex™. More info about the company+ available

here.
Superstar architect Zaha Hadid will also be launching a line with Melissa in 2007. Prices vary, but shoes seem to be around $50 on the low end (i.e. on sale!).